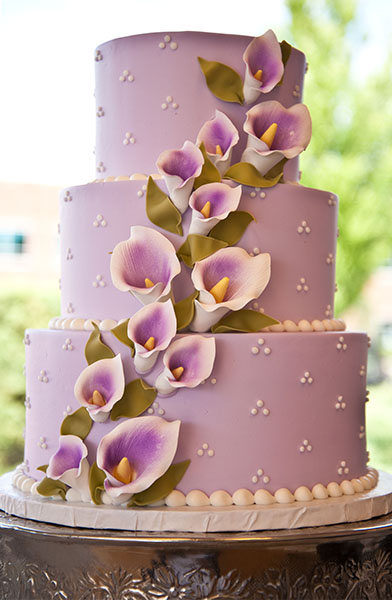 We would love to assist you with designing your perfect cake. Our process is as easy as A B C and is as follows:

Availability of your wedding date: Let us know the date of your event. These dates fill up and we can only produce a limited number of cakes per weekend, so it is essential to reserve your event date early. We require a $50 down payment to reserve the date of your wedding/reception.
Begin to review your inspiration for cake decor and structure, this is usually from online blogs, photos, pinterest, or a consultation at our studio. Happy Cake Company has many photos to review on our Facebook page HappyCake_Wedding Photos as well as our website. We can discuss the elements for the cake design and determine a structure to accommodate the decor. Please feel free to respond to our email: happycakeco@gmail.com and attach photos for our decorators to review.
Calculate and determine an estimate of how many guests will be attending. Our prices are $4.95 per serving for buttercreme frosting finish and $5.95 per serving for fondant designed cakes. The main difference between buttercreme and fondant is the ability to use certain decor and and the overall presentation and durability outdoors in hot weather. Cupcakes start at $2.50 each.
Timelines

We encourage booking 4-6 months prior to the event: to reserve date, determine design and decor (All the ABC's)
30-60 days before the event, we need to finalize the cake design and quantity.
Final Payment due 14 days prior to the event date.
We deliver to the Spokane and CDA metro areas for a fee depending on location.We are happy to schedule a consultation at the shop, we can provide some samples of our popular cakes that we are baking each week. Just give us a call (509-924-8455) and we can schedule a time to meet!